Brijendra's Success Story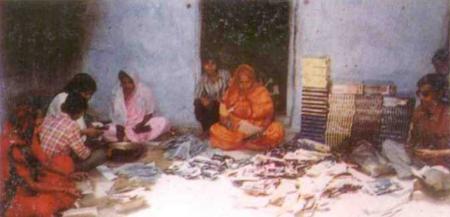 Brijendra Singh Rajput, B.A., a resident of village Etoli, block Raini was jobless. He was living with his parents in a rented house at Rajgarh town of Alwar district. His parents were very old. To earn livelihood he was selling biscuits, salty eatables and other petty items on a bicycle in nearby villages. This way he could hardly manage his family expenses.
One day he went to the office of "Mata Shri Gomti Devi Jan Seva Nidhi Trust", Rajgarh, a sister organization of LHWRR He described his hardship in detail to the block incharge. In view of his hard working nature, education and zeal to achieve something in life, Brijendra Singh was selected under the Rural Industries Programme (RIP) to start agarbatti making activity. He was sanctioned a loan of Rs.25000 through State Bank of India, Rajgarh, with the cooperation of SIDBI.
In a week's time he learnt the technique of agarbatti making. The loan amount he used for purchasing adequate raw materials and necessary tools for making agarbatti. He started making agarbatti on a large scale in his house itself. He supplied the stuff to the local shopkeepers. His agarbatti being of good quality and fairly priced soon became popular in Rajgarh town. Encouraged by market response he tried wider markets at Alwar and Dausa. Soon his product found good response. Now he is regularly supplying agarbatti in these cities. His whole family is now busy in making and packaging of agarbatti.