Backyard Poultry – A Path To Better Tomorrow
I am, Mrs. Vandana Vinod Ambulkar, a forty-three year old resident of Wani village situated in Bhivapur Taluka of Nagpur District. I am member of Panchashil Women Self-help group of my village. Today I am going to share my experience of Backyard poultry with you.
At the beginning I wasn't aware of backyard poultry business; frankly speaking I never thought it would be a livelihood option, but fortunately LUPIN HUMAN WELFARE AND RESEARCH FOUNDATION arranged a six day training on poultry business at Veterinary college Nagpur for members of WSHG. Seeing a golden opportunity I participated in the training. In those six days we were trained in all the basic and technical aspects of backyard poultry business by the known expects of the field. I was confident that I can handle backyard poultry (BYP) business on my own. That day I decided I will do this business wherever I can afford to start it.
I was not sure how I was going to arrange the initial capital for the BYP business but I was determinant. When there is a will there is a way!!!! LUPIN FOUNDATION again came to the help. As a part of livelihood promotion activity, LUPIN FOUNDATION arranged a meeting in my village for promotion of backyard poultry business. The proposal was that the beneficiaries have to make arrangements for the poultry shelters on their own and collect Rs. 2500 per beneficiary as a project's local contribution. LUPIN FOUNDATION was going to give 100 poultry chicks (Sahyadri variety), one feed bag and 2/2 feed and water containers for chicks. LUPIN field staff also taught us how to make poultry shelter without any major expenditure. I was glad my dream was going to come true. I submitted the project's required beneficiary contribution.
I prepared a zero cost shelter from locally available material. LUPIN FOUNDATION provided me with 100 chicks of Sahyadri variety, poultry feed bag and 2/2 feed and water containers. I was all set to start my own business!!! I utilized every bite of knowledge and skill I acquire in the training. Dr. Mukund Kadam of Veterinary department provided timely and regular help to all the beneficiaries. Our moral was high and we were confident that we will be successful in our endeavor. We take care of the chicks the best we can, we kept them clean, feed them on time and vaccinated them timely.
Everything was going good and chicks were growing as expected. Now the problems began to surface. The feed bag was over I wouldn't afford to buy new feed bag. So I made poultry feed from the grains available at my home. This home-made feed was a good and cost effective alternative. Low food chain Predators like Mongoose and cats were entering the locally made shelter so I had to upgrade it with thick wire mess for chick protection.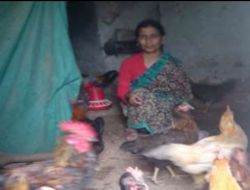 After three long and hardworking months, I had 97 chickens each weighing around 2 to 2.5 Kg ready for sell. My village is a small place. It is not a place where I can find the customers for all of my chickens. So I printed the pamphlets mentioning the variety, rate, and address for sell and distributed them in my village as well as in adjoining villages. Slowly customers started to come. Till date I have sold 30 chickens at the rate Rs. 250 per Kg. I have made a total income of Rs. 16860 and still expecting to make Rs.37654 more from the sale of remaining chickens.
For this first batch my total expenditure was Rs. 12500 (including project contribution). I am expecting a net profit of Rs. 420014. I am very glad that things worked out as I planned. Now I have enough capital to expand the business and the additional money I got has solved my other economic problems as well.
I feel very fortunate that LUPIN FOUNDATION has selected my village for the implementation of the project and in process changed my life. I am very grateful for it.
Thank you very much LUPIN FOUNDATION